Whipped semolina pudding with apples and black aronia berries
See on Scoop.it – Marcello's Kitchen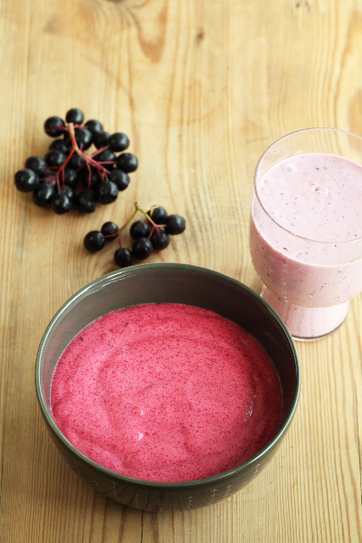 Recipe by Pille @ Nami-Nami. Above photo by Juta Kübarsepp for the October 2012 issue of Kodu ja Aed ("Home and Garden", an Estonian monthly magazine.
Black aronia and apple whipped semolina pudding
(Aroonia-õunavaht)
Serves 4 to 6
1 l (4 cups) water
500 ml (2 cups) a mix of cleaned black aronia berries and chopped apples
100 g caster sugar
a pinch of salt
200 ml semolina (wholewheat or spelt semolina is fine, too)
Put the aronia berries and chopped apples into a saucepan, pour over the water. Bring into a boil, then reduce heat and simmer for about 15 minutes, until the aronia berries have softened.
Take a bowl (or another saucepan) and cover with a sieve. Pour the cooked apples and black aronias – and their boiling liquid – onto the sieve and using the back of a wooden spoon, press as much of the fruit through the sieve. Season the mixture with sugar and a pinch of salt. Bring into a boil.
Pour semolina quickly into the boiling mixture, stirring vigorously to avoid any lumps. Then reduce the heat and simmer gently for 10-15 minutes, stirring every now and then, until semolina – and the pudding – thickens. Remove the pan from the heat and leave to cool for about half an hour. Whisk until fluffy and light – this is best done with an electric mixer.
Serve with milk.
See on nami-nami.blogspot.com