Easy kids' party food: mimosa cake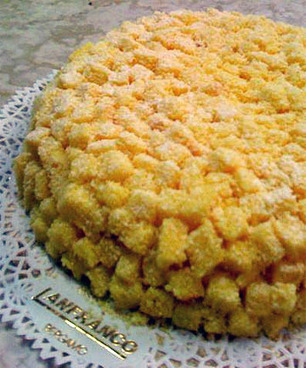 At 12, Arantxa Zecchini-Dowling has very clear ideas on what she likes and doesn't like when it comes to parties. So when she couldn't find a decent book to help her make things that met her criteria, she decided to write one herself. "I really like organising my own parties, but I didn't really have anything like it [the book] for girls my age, everything was too childish or too difficult." Arantxa, who is in year eight, had help from her mother, Auckland food writer Alessandra Zecchini, and they worked on creating the recipes during a seven-month stint in Italy last year.
The result is Party Food For Girls, an undeniably girly book full of adorably pretty things to make. There are lots of projects to keep young hands busy for hours – delicate petits fours and meringue wreaths, a fairytale cookie house and a much-simplified version of the Italian mimosa cake that is traditionally given to women on Women's Day (March 8).
But there are also recipes for more every day food – with high fruit and vegetable content – to please parents. "Mum and I would try the recipes together, then I would try it out by myself to see if it worked," Arantxa says. "I'm not a fussy eater and I like most things." The budding cook says the secret to having fun in the kitchen is to "enjoy yourself".
"Just relax and have fun, and cook things that you know people will like." MIMOSA CAKE This is a spectacular cake that even younger children can make.
This is more like a fun assembling project, which can be done in a short time and with spectacular results. It is called "mimosa" because it resembles the mimosa flower. You can also make a pineapple mimosa variation by adding canned pineapple pieces to the filling.
Serves 8-10.
300 ml whipping cream
2 Tbsp icing sugar
500 ml custard or creme anglaise
2 x 20 cm round sponge cakes
an electric beater, whip the cream until light and foamy.
Add the icing sugar and fold in. Add half the whipped cream to the custard or creme anglaise and fold gently. Place both the custard and the rest of the cream in the fridge. Using a bread knife, carefully remove the entire golden crust from the top, the bottom and the sides of the sponges.
Slice one of the sponge cakes across the middle to make two discs (some ready-made sponge cakes are sold already cut). Place the first disc on a very large serving plate – you will need to leave quite a bit of space around the borders, because the sponge will eventually become a larger dome-shaped cake.
Add Feedback Spread two tablespoons of the custard over one of the sponge halves, then top with half the cream. Cover with the other half sponge, and spread the top with the rest of the cream. Take the other sponge cake, cut into two discs, then cut one disc into a smaller round cake, about 10 centimetres in diameter. Place the smaller disc on top of the cake, in the centre, then spread all the remaining custard evenly around the sides and the top of the cake stack.
Via www.stuff.co.nz